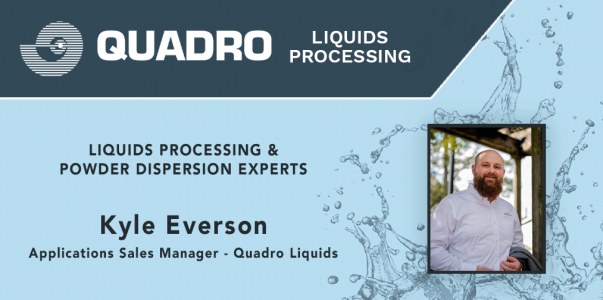 At Quadro Liquids, we believe that it's important for you to understand our people as much as our equipment. When you work with us, you get more than market-leading liquid and powder mixing solutions, you gain long term experience from industry application experts. This ensures you benefit from practical advice for effective mixing but a team that understands how to get the most the equipment when working with a wide range of materials.
In this blog, we speak with Kyle Everson, Applications Sales Manager.
How would you describe your role and responsibilities within Quadro Liquids?
"In my role as Applications Sales Manager – I am focused on creating process optimization to improve the quality of product and profitability of production for the end-user. I work mainly on the ongoing process support (onsite or remotely 24/7, with *some exceptions*), training and assistance as our clients explore new potential products."
How do you ensure that your customers benefit from the team's experience?
"Our obsession to provide high levels of service is driven by intimately understanding our customers' needs and using our experience to provide guidance towards the best possible solution. We engage in honest discourse as subject matter experts, that allow our customers to realize their end goal in the most profitable and effective way possible. This sometimes means pointing out existing process flaws or opportunities to optimize systems. We do this by taking a hands-on approach (executing trials, training, system optimization onsite etc.), reducing complexity (removing costly unnecessary components from systems), using our decades of experience (practical experience, archived process & trial data) and understanding the customers 'future state' business plan to ensure their investment can grow with their expanding demand profile."
Are you a specialist in any applications?
"I actually specialize in a wide range, including the Hand Sanitizer, Carbopol Dispersions & Cannabis Product categories. In my past relevant career experience, I was focused in Mechanical Sales focusing on hydronic systems and supply tanks."
Do you have any advice for prospects looking for high shear milling equipment?
"Inline processing with our equipment can improve your bottom line in areas that are often overlooked (power consumption, maintenance costs, raw material waste improvement, number of operators etc.)."
Can you provide a common example of how we solve customer problems.
"Using both practical and archived experience, candid discourse, and a hands-on approach we are able to support a higher form of collaboration with our clients. We directly execute the lab trials as well as onsite demonstrations and provide training for every level of an organization, from the project engineer to the operator."
What are typical applications that are seeing high demand, and how can we help?
There are so many at the moment due to the flexible range of equipment that we provide. Due to the current climate, we are seeing a huge increase in companies diversifying and moving into the personal care market. This covers Hand Sanitizers, Soaps/Conditioners/Lotions and Oral Care Products (Personal Care).
We are also experts in API Wet Milling (Pharmaceutical), Vaccine Media (Pharmaceuticals), Oral Medications (Pharmaceutical) and regularly work with suppliers in the 'Shelf Stable' Beverage/Food Emulsions (Food), Humus (Food), Yogurt/Dairy (Food), Alternative Milk (Food), Cream Alcohol Products (Food), Cannabis Products (Alternative Dosing/Beverage/Edibles), Paint/Pigment/Ink/Toner Dispersions (Industrial), Batteries (Industrial), Glue Products (Industrial), Oil Field Products (Industrial), Water Treatment Products (Industrial)
What is important to remember, is that each solution is driven by a different set of variables, however, generally, we can provide expert advice to allow the end-user in each category to optimize their approach."
Why would YOU choose Quadro Liquids?
"We have an unmatched commitment to supporting our clients 24/7, we're highly experienced in applications and we also have a unique drive to treat our customers business like it is our own."