Background / Requirement
Guar gum, a high-viscosity thickener, is highly hydrophilic and difficult- to-disperse without fisheyes
Gum dispersion is pumped into the wells to displace oil for recovery from porous rock
High-capacity, single-pass dispersion into hot or cold water.
Quadro's Approach
ZC3 in-line disperser, skid mounted with a discharge PD pump arrangement for performance with high viscosities and high solids addition rates.

Simple VFD pump control to provide:

Variable backpressure on ZC3 disperser controlling powder incorporation rate
Steady control of discharge concentration
Positive delivery of viscous gum dispersion to downstream processing
Powder feed system to maintain full charge in powder hopper

High/Low-level hopper detection with automated powder valve actuation.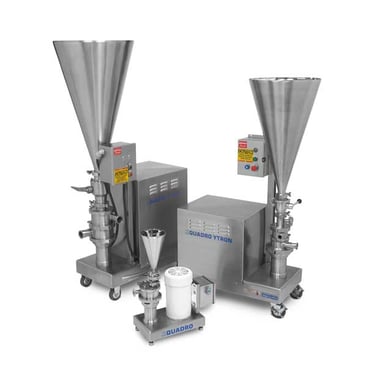 Quadro Ytron® ZC Powder Disperser Features
Rapid incorporation and dispersion of solids - reduced batch times by as much as 90% versus conventional high HP in-tank, high-shear mixer processing
Significantly reduced air entrainment
Control of discharge concentration to avoid post-dispersion blending of viscous gum solutions
Dispersion is possible in hot or cold water.