From lab mixers and pilot scale to full production
Quadro Liquids has a wide range of sanitary industrial mixing equipment that is suitable for liquid blending, powder dispersion & emulsification. Equipment is available in various sizes, from small-scale laboratory units to large-scale production systems. This makes them suitable for many mixing applications.
Powder Dispersers
The line continues with the Quadro® Ytron ZC. This inline powder dispenser is custom-engineered. It streamlines the incorporation of difficult-to-disperse ingredients in various applications. These include personal care and cosmetics, food and beverage, pharmaceuticals, and chemicals.

This workhorse industrial mixer excels at inline single-pass and re-circulating powder applications. Featuring significantly minimized air entrainment and dramatically shorter dispersion times, this machine can slash batch times by as much as 90% compared to older, less efficient technologies.

Quadro Ytron® ZC is a high shear powder disperser. It has the ability to disperse difficult-to-wet powders in a single pass.
This disperser is inline, meaning it can work continuously. This includes rheology modifiers (for example, viscosity-building powders) into a controlled liquid stream. This makes it ideal for creating products with consistent viscosity and texture.
Homogenizers
The Quadro® HV-Emulsifier and Wet Mill is perfect for complex and delicate tasks such as submicron processing or suspension micronization. This product offers the best cost per kg-hr in the market. It is highly versatile, too. It can be used as either a homogenizer or a wet mill.
The Quadro® HV homogenizer series provides more shear energy than a conventional rotor-stator mill. It is perfect for processing submicron emulsions or for micronizing suspensions.
Advantages include:
finer particle sizes in far less time
easier cleaning and maintenance compared to competing machines,
and significant capital cost savings.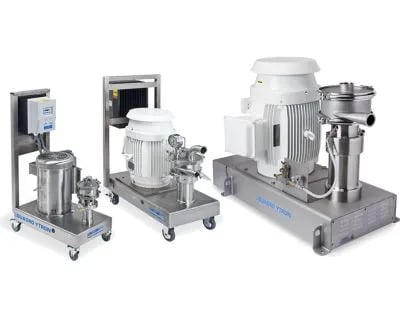 Quadro® HV is a unique high-velocity rotor-stator mixer used for submicron homogenizing, high shear wet milling, and suspension micronization.
Quadro Liquids liquid mixers excel at achieving submicron homogenization, rapidly and efficiently to improve product quality.
Quadro offers a full line of industrial mixing equipment, starting with the low shear energy, in-tank Quadro® Y-tron® Jet mixer. This mixer is excellent for gentle mixing tasks, often required in the pharmaceutical, food, personal care, and chemical industries.

Quadro Ytron® Z is a multi-row toothed rotor-stator high shear industrial mixer designed to reduce bypassing in macro-emulsion processing, homogenization, modifying product textures, and fine particle dispersions. This high-shear inline mixer significantly reduces mixing times to boost your bottom line.

Quadro Ytron® Jet Mixer is a low-shear in-tank mixer designed for highly efficient liquid blending, solids suspension, powder incorporation, and dissolving of solids.
Our mixing equipment line is comprehensive and superior. It includes mixers for pharmaceuticals, food, personal care, cosmetics and chemicals. This robust mixer is just one example.
Providing superior performance for your application
Quadro's mixing equipment is designed to improve on technologies once considered "good enough." We deconceptualize and re-engineer to deliver an improved solution.
There are various myths surrounding high shear mixers that discourage people from using the equipment. However, selecting the right mixer is a matter of understanding how it will be used.
High speed industrial mixers are ideal for creating homogenous mixtures and emulsifications, even from traditionally difficult-to-blend materials.
In high shear mixing, a high-speed rotor applies enough velocity to generate shear, this reduces the size of particles to the point where they can be more easily combined with other substances. In rotor-stator high shear mixers, the stator creates a shearing action as well.