The Application Challenge
Often, emulsions do not persist in the emulsified stage for a satisfactory length of time — they revert to the original phases comprising the emulsion process. For an emulsion to remain stable, sufficient energy input is required. Generally, the finer the droplets produced, the more stable the emulsion.
High shear mixing plays a controlling role in the emulsification process by breaking down droplets while simultaneously limiting the re-combining of droplets during processing. It also improves the suspension characteristics of the product.
If an existing emulsion requires increased stability, shearing the emulsion further decreases the droplet size even more; this process of homogenization results in smaller and more uniform droplet sizes. However, this can lead to subsequent processing using a high-pressure homogenizer, which adds to the cost of production.
Quadro® Emulsifying Mixers
Several Quadro® Liquids products are capable of creating emulsions. The Quadro Ytron® Z Emulsifier Mixer is an inline rotor-stator mixer that delivers unparalleled consistency and control of high shear immiscible phase emulsifying/homogenizing. The Z Emulsifier is designed to reduce bypassing in macro-emulsion processing, homogenization, and simple emulsions.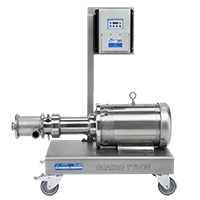 Does your application require a very small (i.e., micro-level) particle size? The Quadro® HV-Emulsifier provides more process shear energy than a conventional rotor-stator mill. The HV-Emulsifier produces submicron emulsions without the subsequent processing of a high-pressure homogenizer, significantly lowering costs when compared to homogenizers or media mills for processing submicron emulsions or suspension micronization.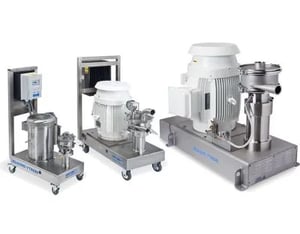 Ready to improve the emulsifying process?
Contact our team of experts today for more information about our industry-leading emulsification equipment or request a quote for our advanced single-pass emulsification equipment and solutions.
Our team has many years of experience supporting a range of liquid mixing and powder dispersion requirements with equipment that is scalable and designed to meet 3-A® sanitary mixer standards. Emulsions are at the core of our business, offering solutions for everything from fine suspensions to creams, lotions, superior cosmetics, and more - get in touch today for further details.