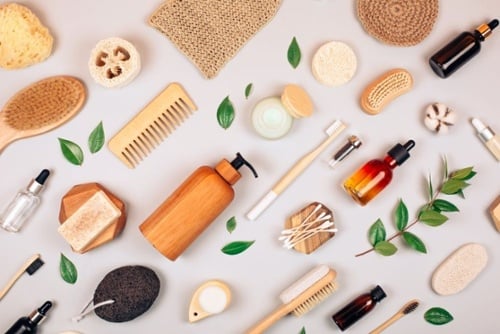 What is a Carbomer (Carbopol®) and how is it used?
Carbomer (Carbopol®*) is a water-soluble polymer valued for its emulsifying, suspending, stabilizing, and thickening properties. It is a key thickening ingredient, widely utilized across a range of industries, from pharmaceuticals to cosmetics, in the manufacture of gels, creams, and lotions. It is also used as a thickener in the food industry.
Most recently, Carbopol® has been used as a gelling agent in the manufacture of hand sanitizer gels for the Covid-19 pandemic.
How is the gelling effect of Carbopol® activated?
The gelling effect of Carbopol® is activated in two stages. The first stage requires the dispersion and hydration of the Carbopol®. The powder must be dispersed into a solution before it can be neutralized. This neutralization process is stage two. The addition of neutralizing agents, such as triethanolamine (TEA), sodium hydroxide, and potassium hydroxide, will increase the pH. This then forms an emulsion and activates the gelling effect of the Carbopol®.
8 key problems with mixing Carbomers, such as Carbopol®
Carbopol® is generally considered a difficult-to-disperse ingredient and obtaining an agglomerate-free dispersion is essential to achieving a clear gel after the neutralization stage. Here we explore the key challenges that you'll face in the dispersion process.
Light, low-density powder
Carbopol® is supplied as a very light powder that has a tendency to float when added to water.
Agglomeration
The low-density powder tends to form agglomerates, which are not readily dispersed through agitation.
Dusting
Because Carbopol® is such a low-density powder, it requires vigorous agitation to be incorporated. This can cause dusting issues with unmixed powder.
Aeration
The aeration created by the vigorous agitation required to mix the powder can create a long-lasting foam that is hard to disperse.
Trapped air
When the air becomes trapped in the gel, removing it can be challenging. This results in cloudy gels and packaging filled with excess air.
Poor flow
Some Carbopol® powders have poor flow properties, making it hard to successfully control the addition of powder.
Low yields
It can be hard to obtain a full yield with conventional agitation methods, with formulations requiring excess levels of Carbopol® to achieve the required results.
High shear vulnerability
The Carbopol® polymer can be damaged by prolonged exposure to high shear, which leads to a reduction in viscosity.
The Quadro solution for carbomer and gum dispersion
The Quadro Ytron® ZC Powder Disperser has been specifically designed for the incorporation of difficult-to-disperse ingredients. Used in a range of applications from personal care and cosmetics, food and beverage, pharmaceutical and chemical, this high-speed inline disperser is the solution you've been looking for.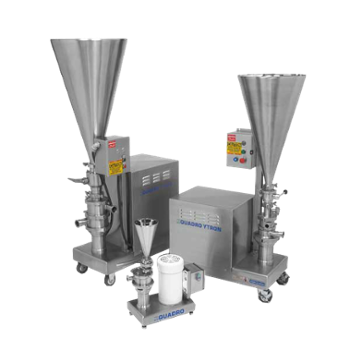 The ZC is uniquely engineered to incorporate and disperse even the most difficult-to-wet powders into a liquid stream in a single pass. In many cases, it eliminates the need to use additional dispersants or wetting agents.
Mixing Carbopol® with the Quadro Ytron® ZC
You'll find the Quadro Ytron® ZC provides superior inline single-pass powder dispersion that solves your Carbopol® mixing problems.
Superior product quality
Results are completely free of agglomerates and "fish eyes," improving batch-to-batch product consistency.
Reduced air entrainment
Minimal air entrainment reduces or even eliminates the need for product deaeration.
Single pass dispersion
The Quadro Ytron® ZC is able to achieve a solids dispersion of up to 70% by weight in a single pass.
Controlled flow
A steep-walled hopper has been designed to control the flow of poorly flowing powders.
Full-flow ball valve
The full-flow ball valve maintains the mass flow of powder through the hopper for effective ball-milling techniques.
Powder and Batch Time Savings
Since the powder is completely hydrated and free of lumps after a single pass, product yield is maximized, and wastage is reduced or eliminated. The high-speed dispersion and hydration performance of the ZC often results in batch time reductions of up to 90%.
Choose Quadro Liquids equipment to disperse gums
We're specialists in what we do. Quadro Liquids is a high shear mixer manufacturer with many years of application experience behind us. We use that experience to develop and deliver efficient industrial solutions that solve the issues that often arise in manufacturing applications. Ultimately, we offer solutions that provide reliable and repeatable results.
We also have our own facility dedicated to research, development and innovation. The Waterloo Technology Centre is a state-of-the-art facility that provides customers with leading-edge technology and equipment to support their testing and product development needs. It's a space where researchers, developers and manufacturers can come and develop customized test matrices and trial batch sizes.
What does this mean for you?
We can support the development of new products, identify improvements to existing processes, and provide proof of concept for process scaling. It also gives you the ability to trial equipment before purchasing. You can come to see the Quadro Ytron® ZC in action and witness its superior high-speed performance. Come and test it for yourself at our Technology Centre!
"Carbopol® is notoriously difficult to disperse effectively. The Quadro Ytron® ZC Powder Disperser has been specifically designed to handle difficult-to-wet powders. It will disperse in a single pass, resulting in less wastage, less processing time, and a significantly superior product."
Wayne Harwood, National Sales Manager – Quadro Liquids.
*Carbopol® - registered trademark of The Lubrizol Corporation.