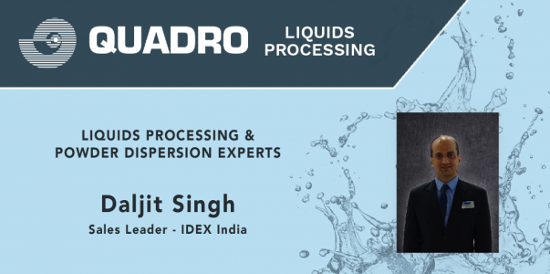 At Quadro Liquids, we believe that it's important for you to understand our people as much as our equipment. When you work with us, you get more than market leading liquids and powder mixing solutions, you gain long terms experience from industry application experts. This ensures you benefit from practical advice for effective mixing but a team that understand how to get the most the equipment when working with a wide range of materials.
In this blog, we speak with Sales Leader, Daljit Singh. Let's get to know his role and responsibilities.
"In my role as Sales leader – I am responsible for Microfluidics and Quadro Liquids business for India and neighbouring countries. My key focus area is to support our local channel partners and enabling them to provide best of services to our customers. We work very closely with our customers to understand their process needs, pain points & provide solution to most of their challenging applications around power-liquids mixing, high shear homogenization and particle size reduction"
How do you deliver customer obsession?
"We always believe in partnering approach with our customers for long-term business relationships. Understanding customer's processes, key challenges and working in collaboration with them to deliver the most optimal solution backed with our quick and reliable aftermarket & service support."
What team, products are you responsible for?
"I am responsible for all the products within Quadro Liquids & Microfluidics portfolio i.e. ZC Powder disperser, HV Wet Mill, Z Emulsifier and Microfluidizers."
Are you a specialist in any applications?
"Most of my industry experience is in the field of process equipments and High shear mixers so I have good understanding of different processes in Food, Pharma, Personal care and Biotech industries. So my specialization is in the area of High Shear mixing, Homogenization, Nanoemulsions, & Powder-Liquids dispersions of difficult products like Carbopol, Gums etc."
Do you have any advice for prospects looking for high shear milling equipment?
"Quadro's design focuses on the "inline mixing" approach, which applies constant shear to the product. Some key benefits of inline processing are high quality product, reproducibility, scalability, & elimination of raw material waste etc."
Can you use an example of how you solve customer problems?
"We have a lot of in-house expertise, with years of knowledge and know-how on mixing and particle size reduction applications. Also having local demo capability to conduct product trials either at our own lab or at site will help our customers to do proof of concept trials and process improvement studies. "
What are some typical applications that are seeing high demand, and how can we help?
"Some of the more typical applications include: Soaps/Conditioners/Lotions (Personal Care), Oral Care Products (Personal Care), Hand Sanitizers (Personal Care), API Wet Milling (Pharmaceutical), Coating solutions (Pharmaceutical), Yogurt/Dairy (Food) etc.
Each solution is driven by a different set of variables, however, generally we can provide expert advice to allow the end user in each category optimize their approach."
Why would you choose Quadro Liquids?
"Quadro offers the unique blend of advanced technology, process expertise, and proven track record of high shear mixing solutions for most challenging applications. Our local presence, demo capabilities and exceptional service support will make us the preferred choice for our customers"