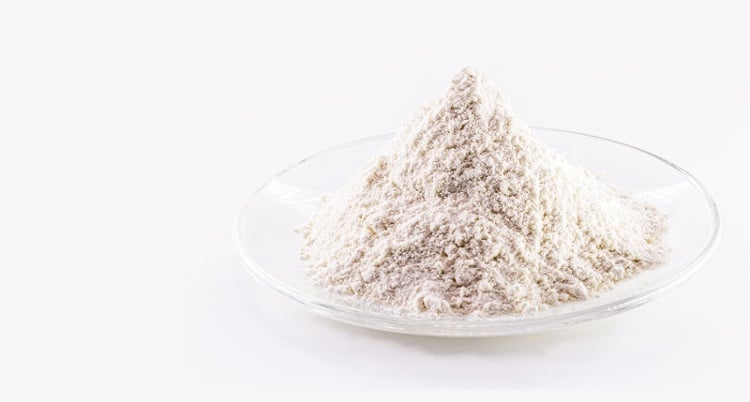 The successful dispersion of Xanthan gum is one of the more challenging processes faced by food manufacturers and other industries that depend on this widely-used thickening and stabilizing agent.
What is Xanthan Gum?
Xanthan gum is a hydro-colloid gum and is microbial in origin. It is a complex polysaccharide produced from the fermentation of the micro-organism Xanthomonas campestris. As an effective and versatile rheology modifier with pseudo-plastic characteristics, xanthan gum is typically used as a thickener, emulsifier or suspending agent to provide stability, improved textural qualities and/or pouring properties.
It is widely used across a variety of industries, from food manufacturing to pharmaceuticals. Applications include salad dressings, sauces, beverages, dairy products, low-calorie foods, soups, desserts, cosmetics, pharmaceuticals, creams, lotions, cleaners, coatings, and adhesives.
Complications with Xanthan Gum Dispersion
There are inherent technical difficulties involved in mixing xanthan powder into a liquid. Upon exposure to liquid, the powder tends to hydrate and expand rapidly, leading to the formation of non-dispersed lumps. As the gel thickens, the likelihood of clumping only increases.
Fish-eyes
These problematic lumps are commonly termed fish-eyes. Fish-eyes are agglomerates of partially hydrated powders. The tough outer layer prevents the complete wetting of particles within the interior. Once formed, they can be difficult to disperse and will float on the surface of the batch.
Other issues
Further complications associated with Xanthan Gum dispersion via conventional methods include:
long batch times, leading to delays in production
filtering of lumps needed in the final product (often producing powder waste),
powder build-up in processing containers
gumming of mixing equipment and processing containers
Traditional solutions
Processors have developed methods to assist in the hydration of Xanthan Gum. These include the pre-blending of Xanthan Gum with other powders and the pre-dispersion of Xanthan into oil or glycol using a separate gum hydration tank. However, the additional processes mean manufacturers spend extra time and money on the product.
Introducing the Quadro Liquids Solution
The Quadro Liquids equipment, Model ZC - Inline powder Disperser, is capable of dispersing Xanthan Gum into water quickly and completely lump-free in a single pass. The technology ensures problem-free incorporation of the thickening agent into water, effectively solving the challenge of seamless xanthan gum dispersion.
Five key benefits
The ZC model's versatility, cleanability (3A approved), simplicity, and low maintenance make it ideal for mixing Xanthan gum and other food and sanitary product-related applications.
1. Quick single pass dispersion into water
The system integrates the single-pass, inline continuous disperser with Uniform Film Interface (UFI) technology to precisely integrate the product into a water vortex.
2. Higher consistency and better quality than traditional mixers
The dispersal method sidesteps many of the problems associated with direct, in-tank mixing. Waste and clean-up are also minimised.
3. No formation of problematic fish-eyes
The system allows for continuous operation, including dispersion of the solids into the liquid, followed by mixing, with no lumps, conglomerates, fish-eyes, or other undesirable outcomes.
4. No air bubbles in the final product
The method ensures effective powder dispersion without trapping unwanted air bubbles. This gives a final product without air bubbles, eliminating time spent performing deaeration.
5. Repeatable process irrespective of the desired concentration
Whether your process calls for 0.2%, 5% or alternative concentrations, the technology ensures the process is repeatable, scalable, and efficient.
Highly effective results
The ZC unit has been proven to yield ~30% higher viscosities than traditional methods. Consistent viscosities from batch-to-batch are accomplished with single-pass, uniform, and consistent shear applied by the ZC to all the Xanthan powder. Gum hydration tanks, pre-dispersion fluids, and post-filtering are not required with the use of the ZC. The ZC technology is capable of producing single-pass, lump-free Xanthan gum solutions at flow rates from 15 to 120 USG M (60-450 LPM).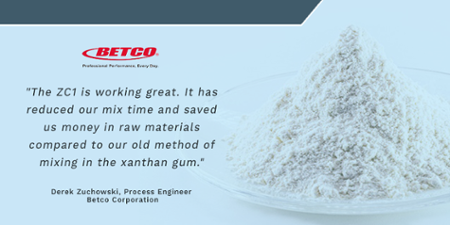 Related Reading:
Find more information about our powder dispersion technology and the Quadro Ytron® ZC series of high-shear, single-pass inline dispersers by downloading the brochure below or fill out our simple form to request a quote